To See or Not to See – The Benefits of Doing a First Look
A new tradition that is popping up more and more at weddings is the First Look.  Some brides, me included, wanted to stay traditional and not see the groom until the ceremony.  My husband also wanted to wait.  But many couples are now choosing to do a first look before their wedding ceremony.  It's your day and whether you do a first look or not is totally up to you, but there are some great benefits that are worth thinking about.
Create another memorable moment for your wedding day.  Doing a first look can result in some great photos.  Sure, your spouse seeing you for the first time coming down the aisle can make for a great photo, but you transition right into the ceremony, and don't have time to take that moment in.  Having that moment lets you both soak in the moment of seeing each other for the first time.  You can also be creative in the way you do your first look, so we can make it lots of fun and capture some great photos!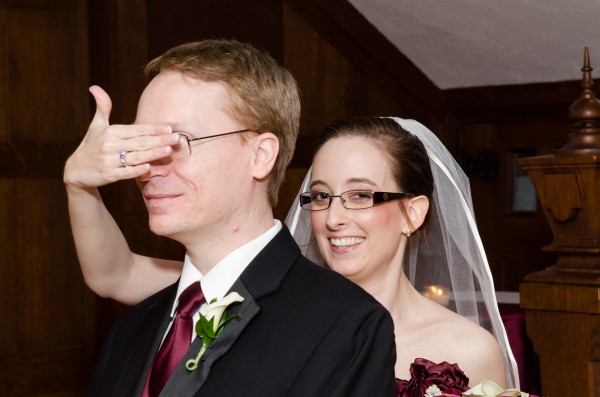 The First Look can be a great way to calm your nerves right before the ceremony.  Enjoy some smiles and laughs with your wedding party and relax.  You can also opt to have a private moment with your spouse to be, spend a few minutes together, and let all the tension and nerves of wedding planning go away so you can enjoy the rest of your day.  Sometimes grooms are more nervous than they let on, so getting to see you will help him relax too!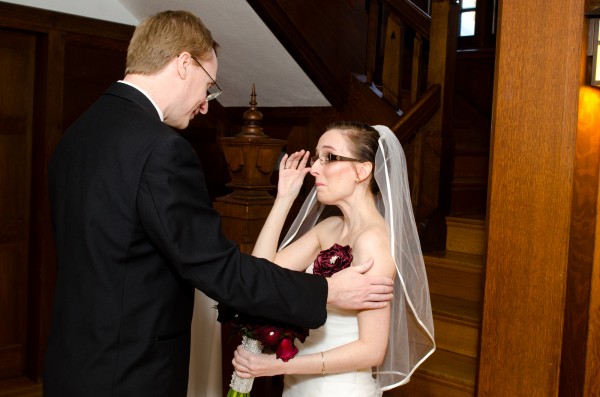 It can be a time saver.  Especially during the winter months here in New England, we lose light quickly in the afternoon.  If you decide to do a first look, we can get your family and bridal party formals out of the way before the ceremony, and depending on the season, before we lose daylight if you want outdoor photos.  We can even do some of your bridal formals ahead of time, leaving you more time at the reception.   With family and bridal party formals out of the way, you can also join your cocktail hour to mingle with your guests before the reception starts.  Most of the time, photos are done during cocktail hour, so if it's something you would like to attend, doing the photos ahead of time would open up that time for you.  I love snacks, so if I had thought about it, I would have wanted to go to cocktail hour!
So if you're on the fence as to whether or not to have a first look moment, consider these great points.  If you decide to stick with the older traditions, hey, it's YOUR day!
All content and photos ©Heather Littlefield Photography