Homemade Dog Treats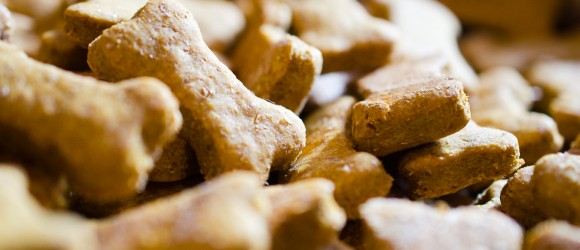 I thought I would put a little something different on the blog today, a recipe for homemade Pumpkin Peanut Butter Dog Treats.  I'm always trying to find easy and creative ways to save money, and this is one of the best ideas I have found so far!  I've also been finding a lot of things on Pinterest, and I found the original recipe there.
Quality dog treats are not cheap, especially when you have a picky King Charles Cavalier who likes the natural treats made of fruit and veggies, or his absolute favorite, the berry waffles at the Petco Unleashed treat bar.  I buy him those when I can, but they get expensive.  I have done a lot of research on pet foods, and my pets eat some of the best food out there.  After reading about fillers and by-products,we now buy a lot better foods for our 4 legged fur babies.
This is a very simple easy recipe, and I highly recommend it if you have a dog (or two or three!).  Our dog Bertie, as well as our friend's and family's dogs have all gobbled these down and begged for more.  They are a huge hit.  And get this, it's only 4 ingredients to make them: pumpkin, peanut butter, whole wheat flower, and eggs.  That's it!  They are super easy to prepare.  What takes the longest is the baking and cooling off.  I made mine into little mini bones with a cookie cutter bought here on Amazon.  It's just over an inch wide.  I also have a bigger one, found here, also on Amazon for the bigger doggies in our life.  If you don't want to make them bone shaped, just look around the site and you can find tons of shapes, or you can just cut the dough into pieces with a knife, but where's the fun in that?
Anyway, enough talking, and onto the recipe and photos after the cut!
Ingredients:
2 1/2 cups whole wheat flour
2 large eggs
2/3 cup pumpkin purée, canned or fresh
3 tbsps peanut butter
Preheat the oven to 350°F. Place all ingredients in the mixing bowl of a stand mixer fitted with a paddle attachment. Mix on medium for about a minute or until the dough looks like a bunch of little dough balls. If you pinch a piece and it crumbles, add a little water. If it's really sticky, it's too wet and you'll need to add a little flour. Gather the dough together and form into a ball. Place on a lightly floured work surface and roll it out to about 1/4-inch thickness. You can either use a cookie cutter to cut out cute shapes or use a knife to cut squares or strips.  Gather the scraps together and roll them out again and again until you've used up the dough. Place the cookies on a baking sheet. They can be crowded pretty close together since they don't expand much. Bake 15-20 minutes for softer treats or 30 minutes for hard treats.  Let cool completely.  Feed to the dog and prepare for lots of begging for more!
P.S. If you buy one regular can of pumpkin, it's the exact amount for 2 batches, so if you don't want the pumpkin to go to waste, make 2 and you'll be set on treats for a long time, or you can give some as gifts to friends and family!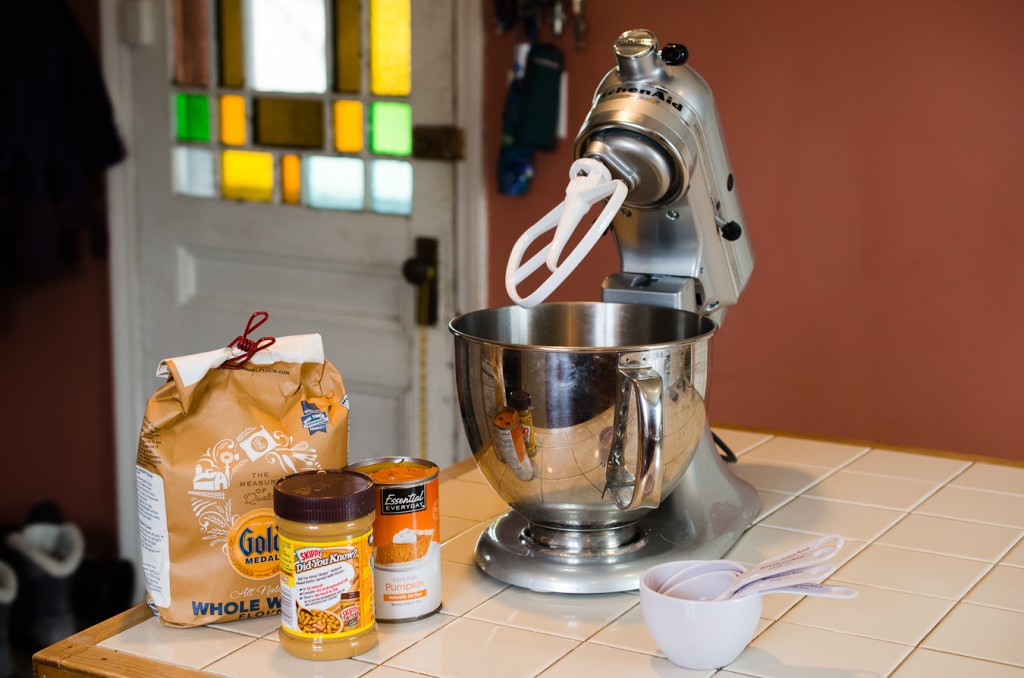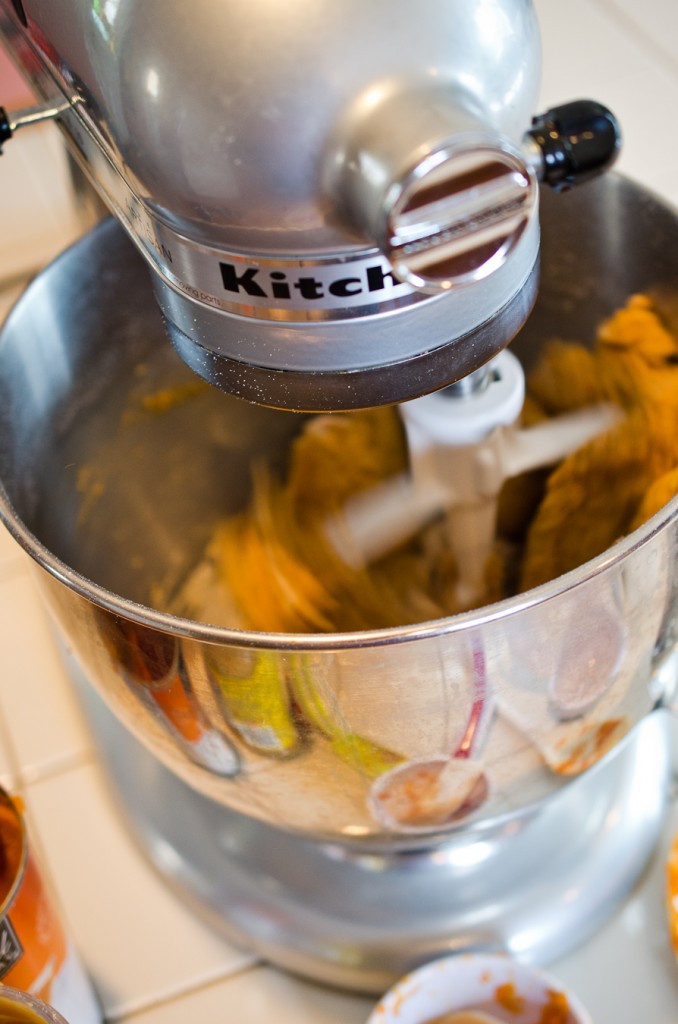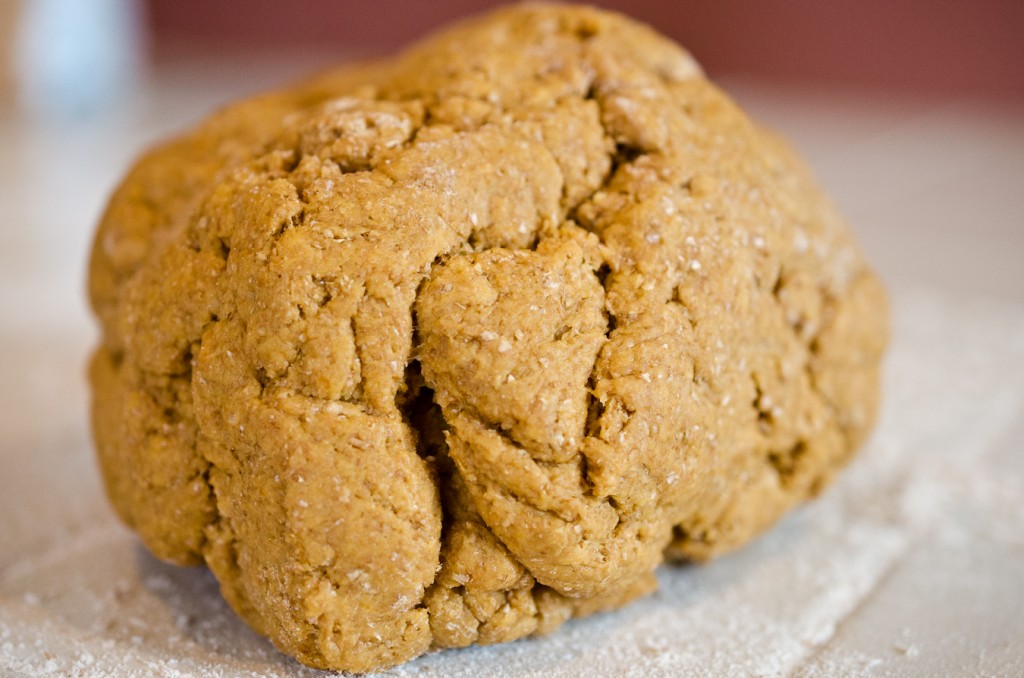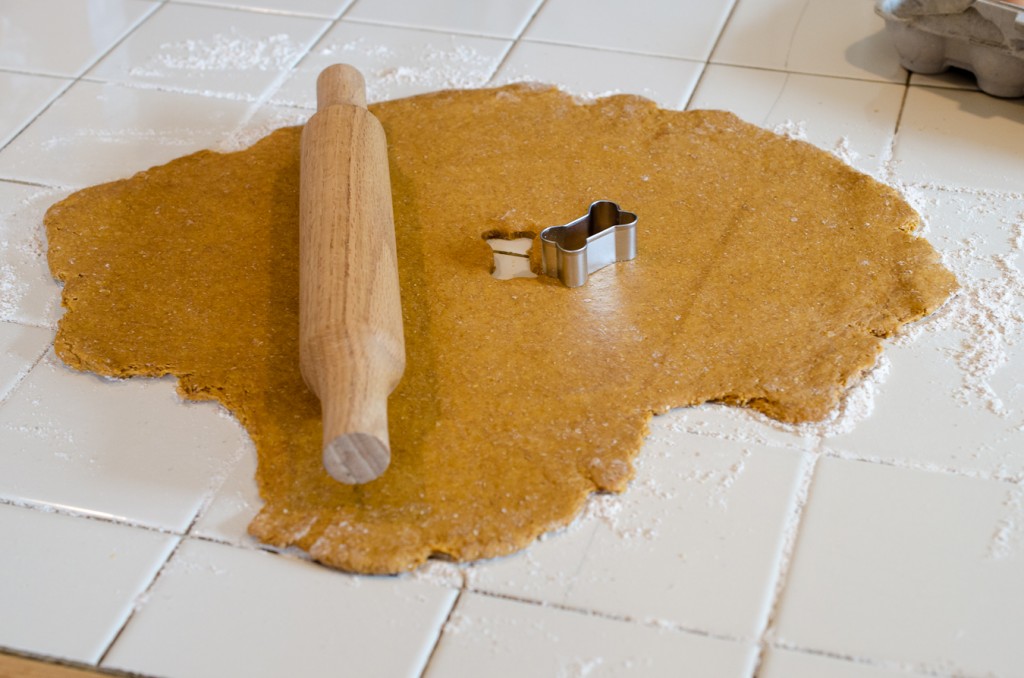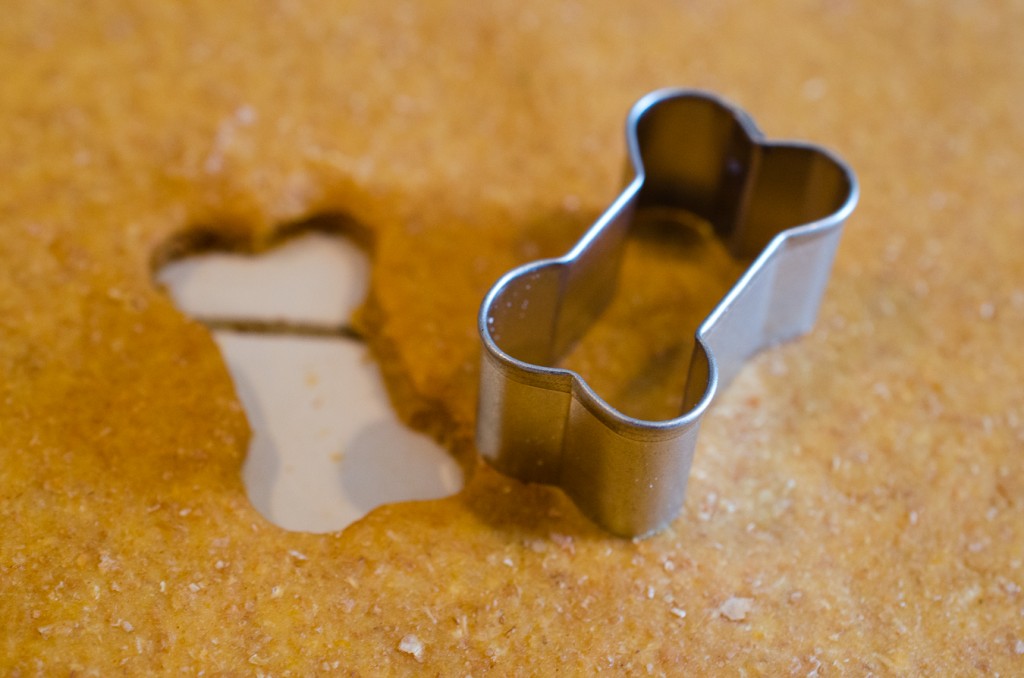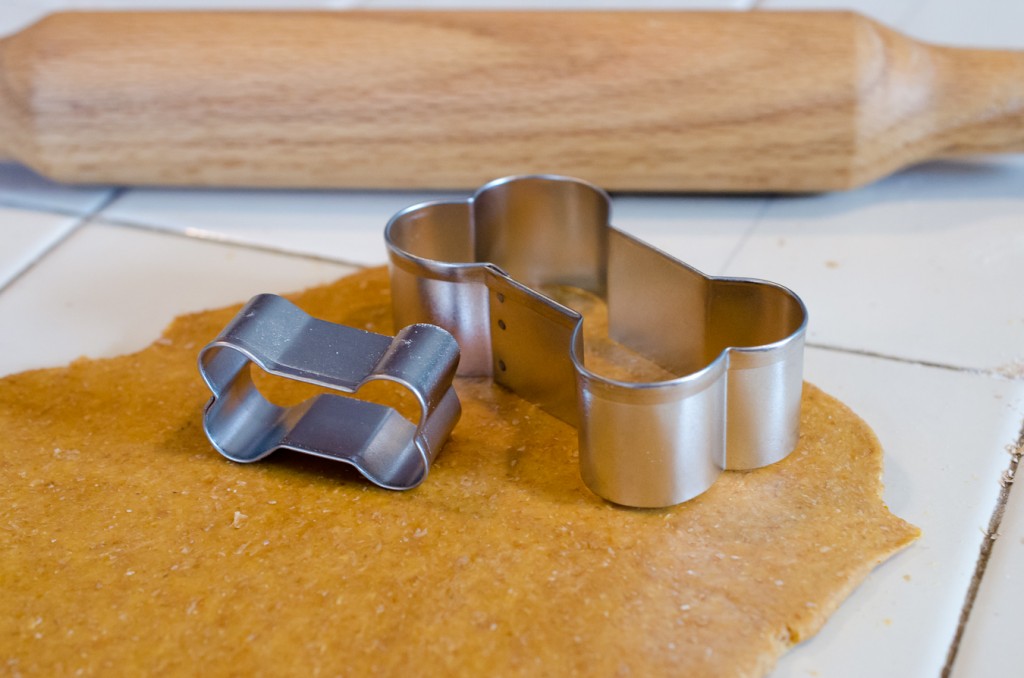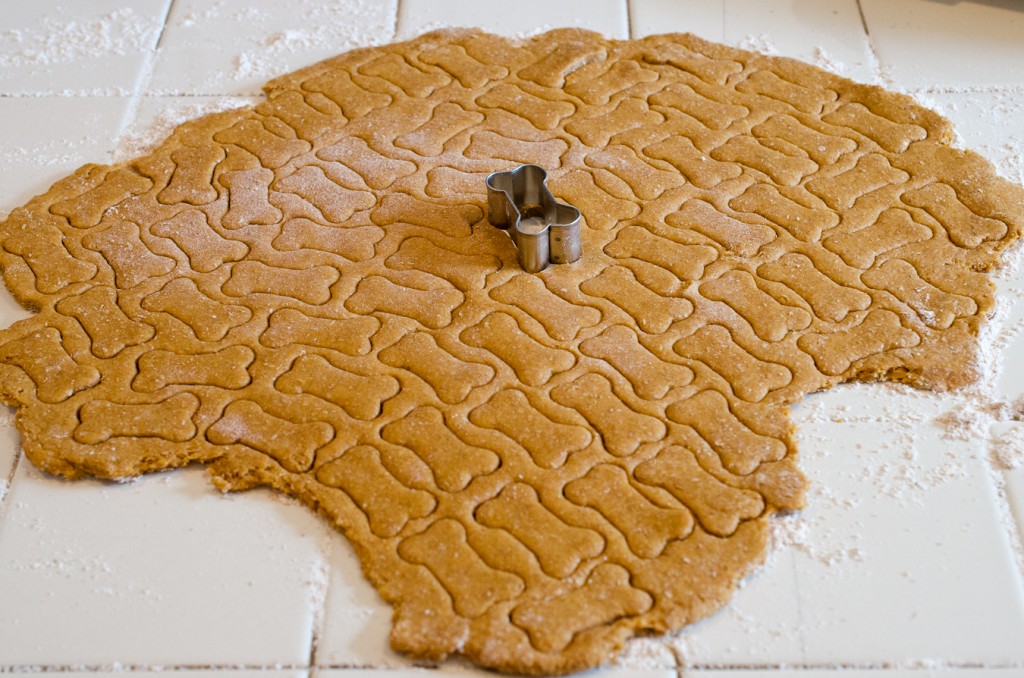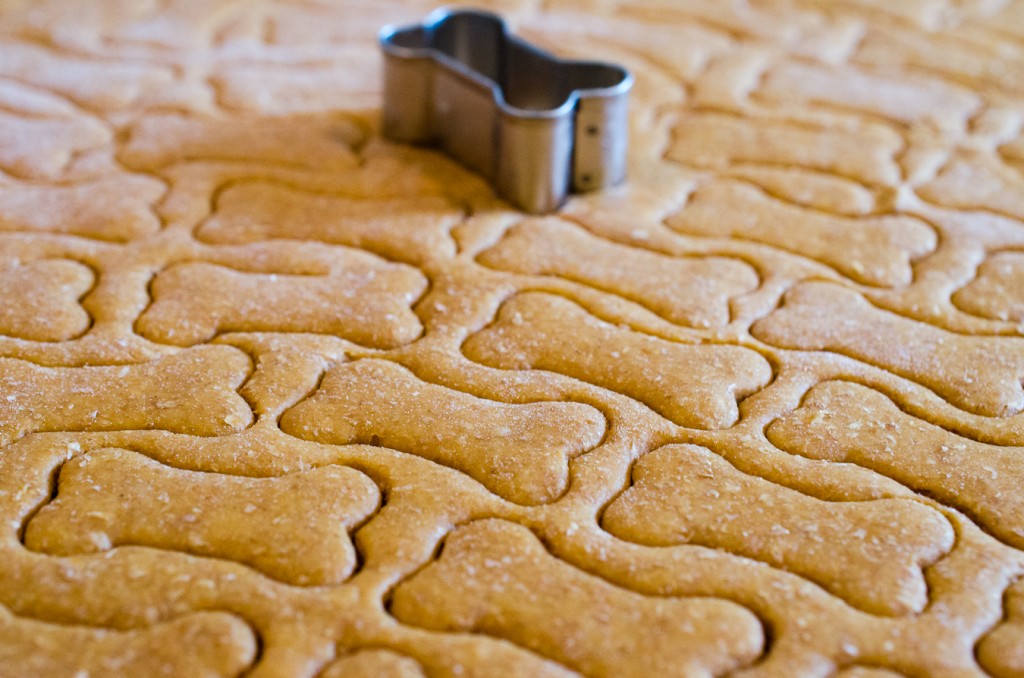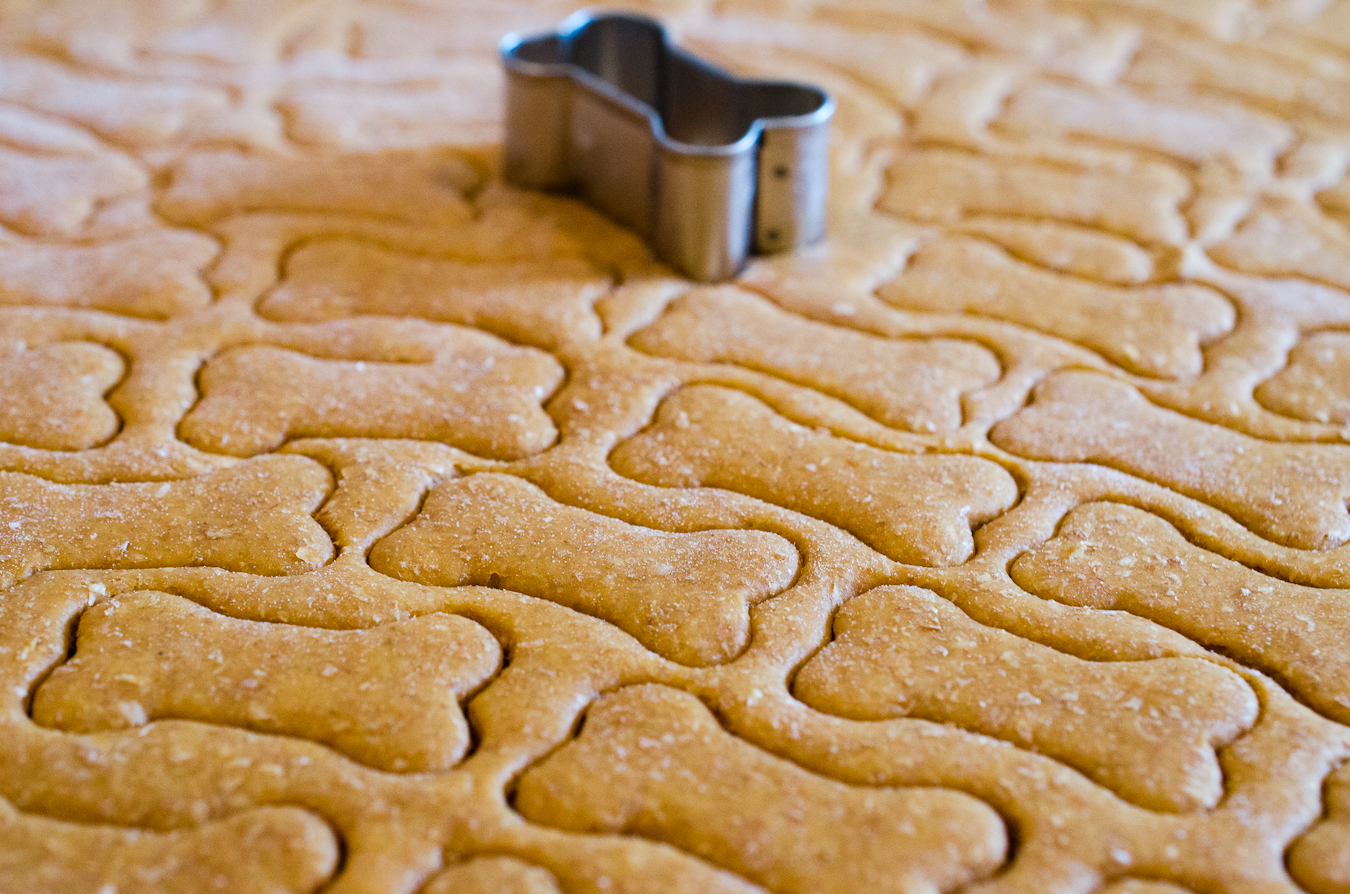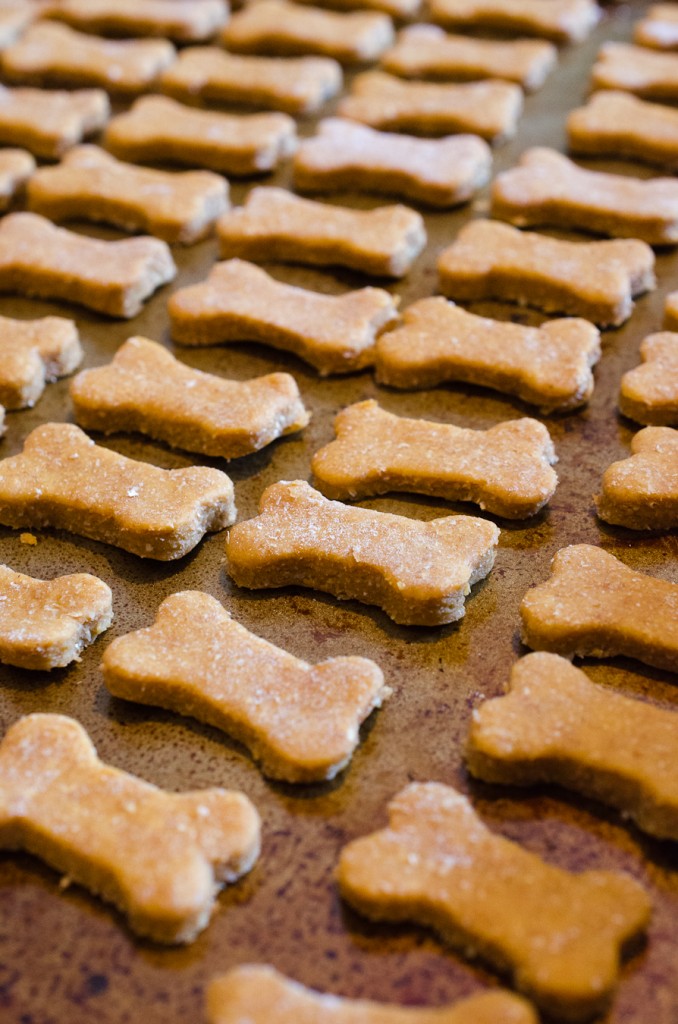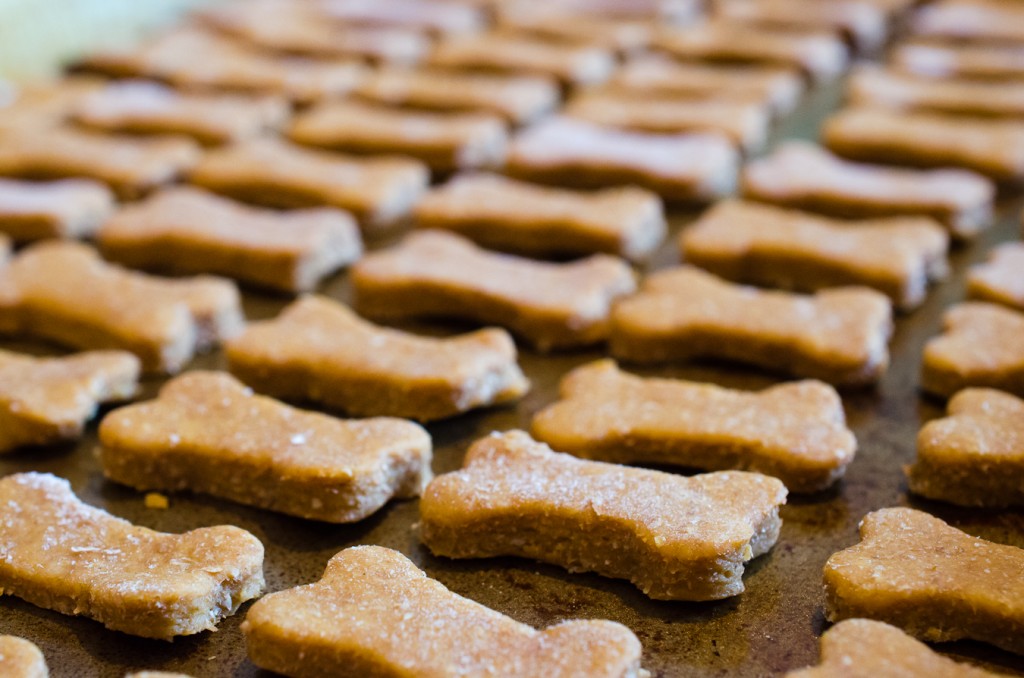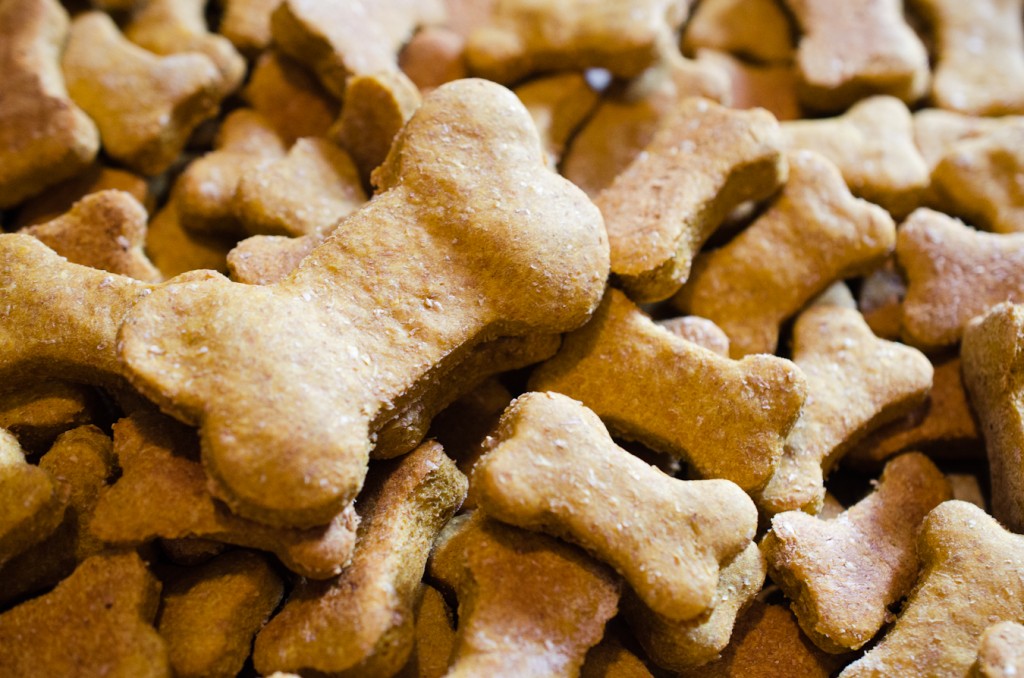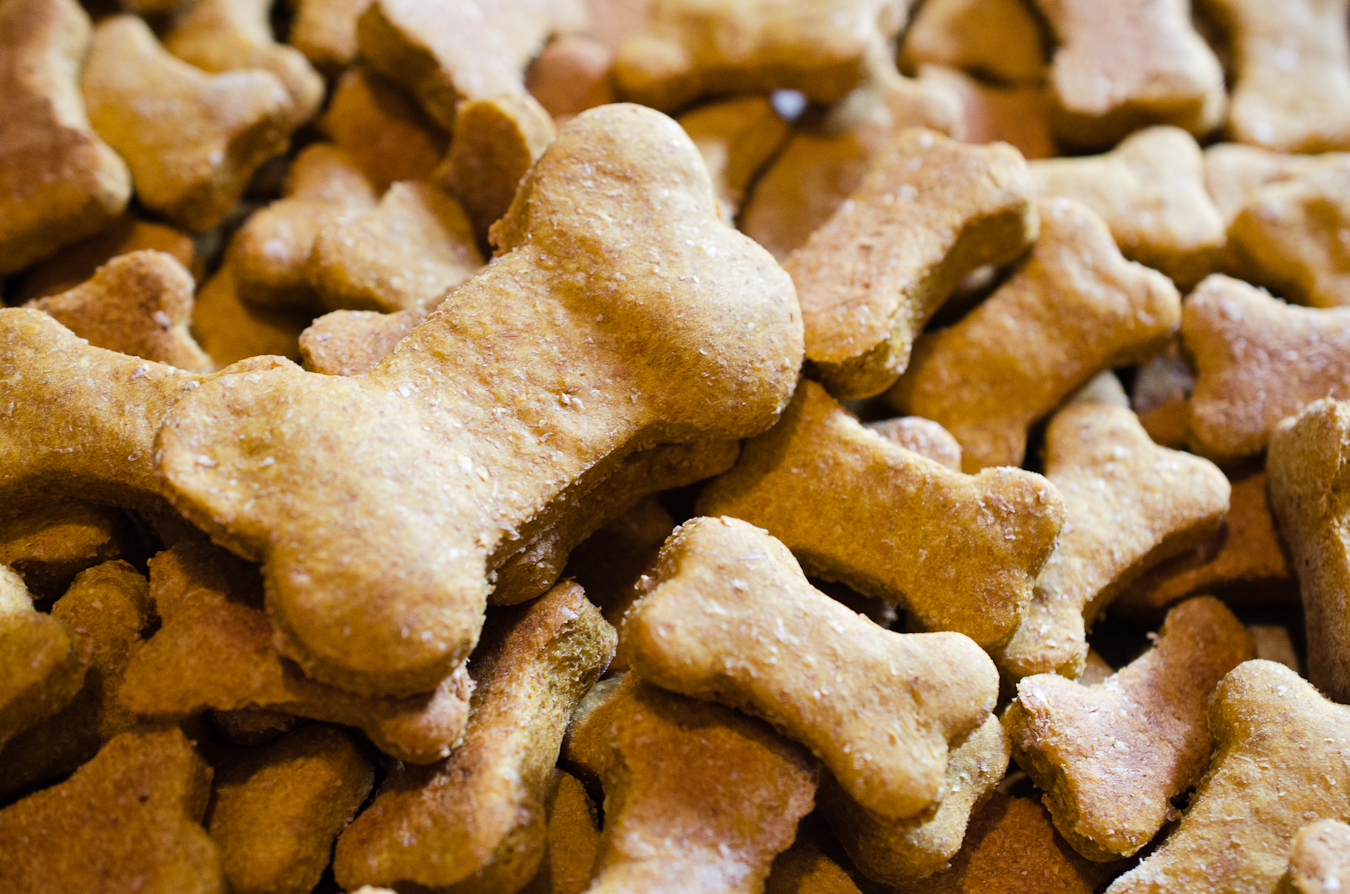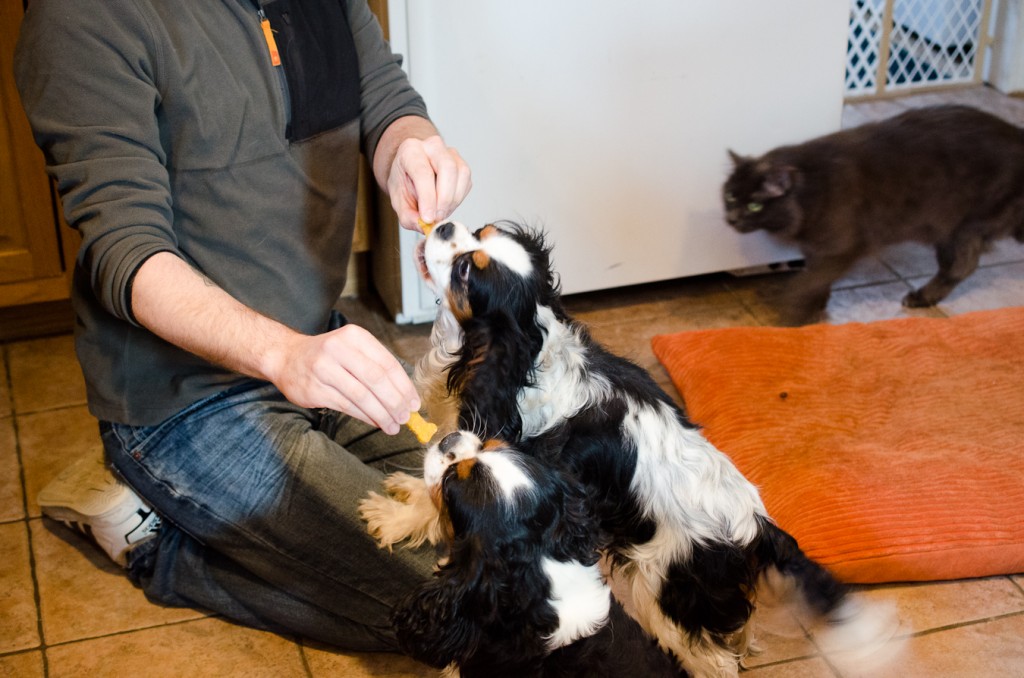 My taste testers, Bertie (L) and Crystal (R) approve, as Puff photobombs in the background.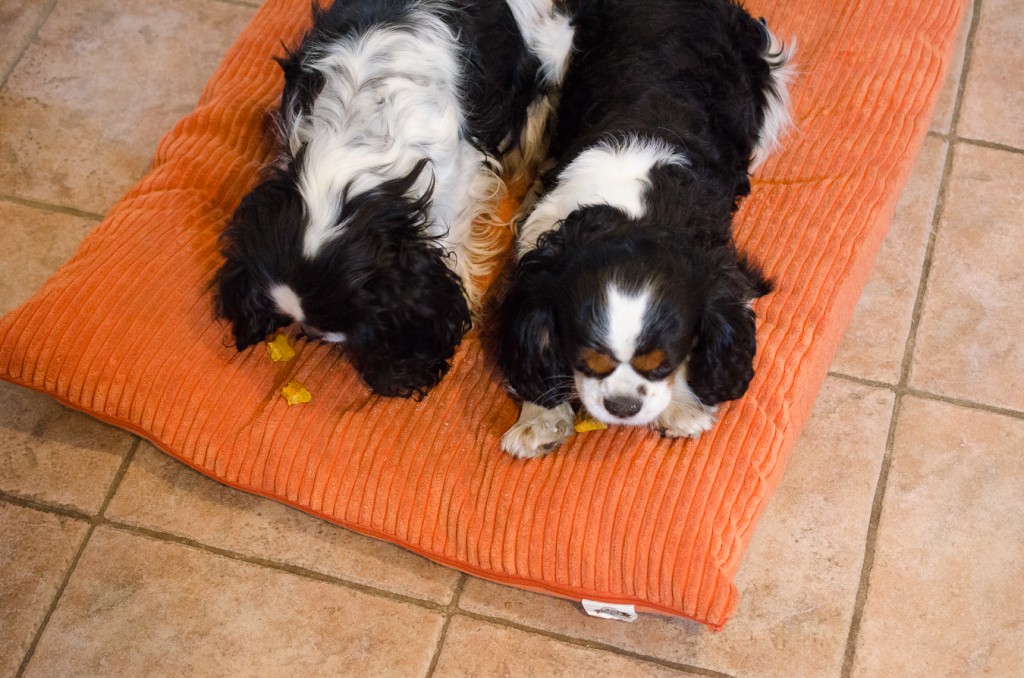 Satisfied customers!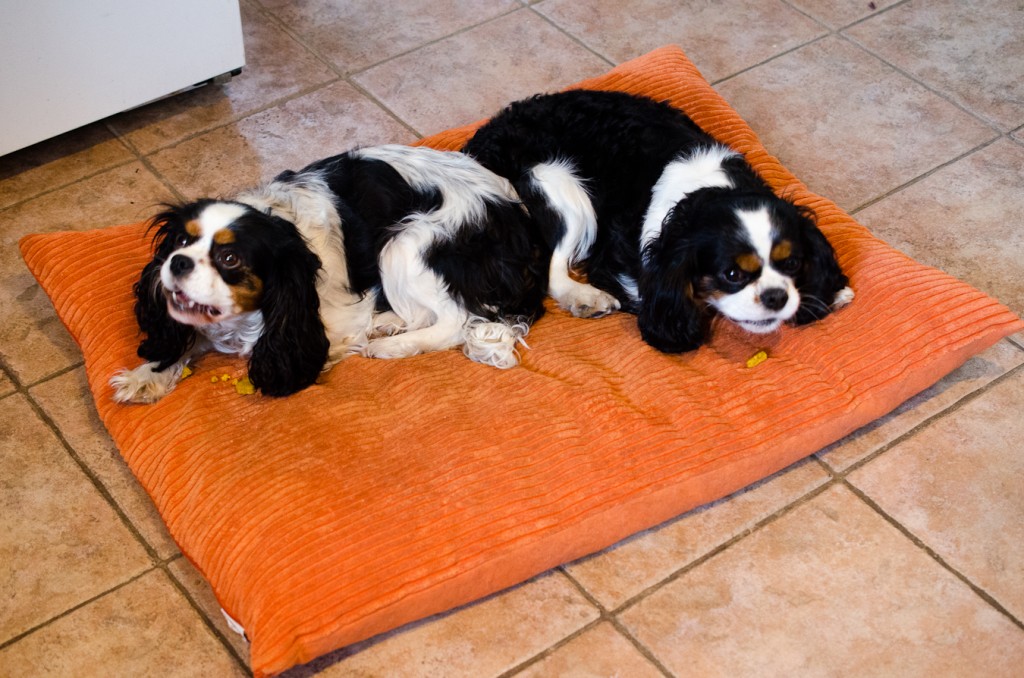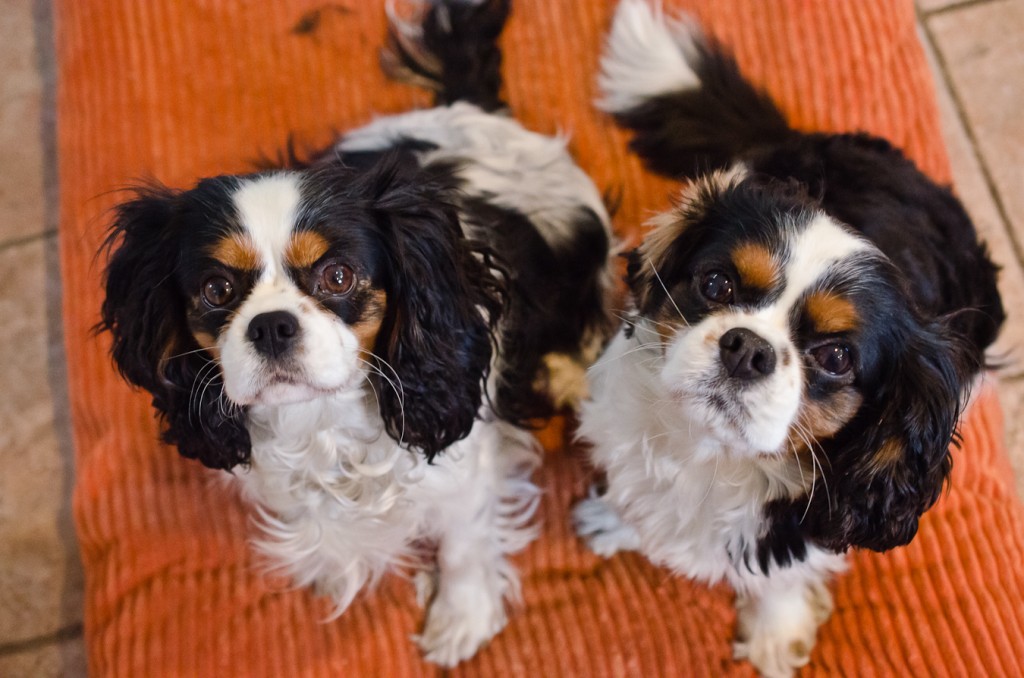 Crystal & Bertie
I hope you enjoyed the recipe and photos.  If you make some, comment and let me know how your pup likes them!
All content and photos ©Heather Littlefield Photography